Railings
We can manufacture bespoke wall or floor mounted steel railings. We also have a wide range of options that are made from very high quality materials and are ready to install.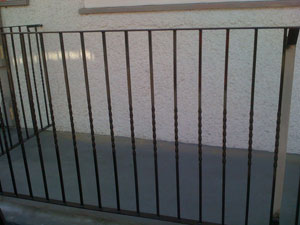 With a huge variety of railings to choose from, any of our designs can be added to with a range of optional extras. These include alternative railheads and decorative additions.
Whether you are a home owner, or own a commercial or industrial property, we can help you to find the perfect solution. We also work with local authorities and private businesses.
The railings that we offer are high quality and will adorn any home or property – adding to its kerb appeal; they will also help to line the perimeter of your property, a balcony or an open space, and with different heights available the steel railings can also help keep out unwanted visitors.
Our expert team will visit you, whether you are based in Essex or the rest of the South East, and conduct precise measuring of your space. Once we have your measurements, and we know the choice of railings you have chosen, we will take the details back to our purpose built manufacturing facility. Here, we will custom make your railings and return to your property to fit them – at a time convenient to you.
Finishes include galvanising, zinc coated, powdered, uncoated and hand painted. If you are a business and wish to match the colour of your railings or decorative sections to your brand colours, we can offer that too.
We really work hard to give you exactly what you need, and testimony to that is from the customers that return to us again and again. The majority of our work comes from existing customers and word of mouth recommendations.
We can not only fit new railings, but can repair or replace your current railings. Our team know how important it is to maintain railings as they are exposed to the elements, and from time to time vandalism or damage can occur. If your existing railings are showing a little wear and tear, have been damaged or weathered, please speak to our expert team today.
We would like to invite you to call us on:  01708 554425 / 07947 317047 or email for a prompt reply at: info@steelsecure.co.uk.