Bespoke Roller Shutters, Gates, Railings and more
Thanks for visiting!
Steel Secure are manufacturers and installers of bespoke high quality Roller Shutters, Gates, Railings, Grilles and other steel security products.
We hope you can find everything you need on our website. STEEL SECURE LTD is focused on providing high-quality service and customer satisfaction - we will do everything we can to meet your expectations.
With a variety of offerings to choose from, we are sure you will be happy working with us. Look around our website and if you have any comments or questions, please feel free to contact us either by telephone or email.
Working To Secure Your Property
We work hard to bring our clients only the best quality products, by manufacturing many of the components, we are able to offer an exclusive customer service that many of our competitors are unable to match.
We are based in Rainham, Essex and cover all of the South East of the country. With years of experience in our field, we constantly have our customers return to us for further work, and they always recommend our services; Testimony to our success and excellent service.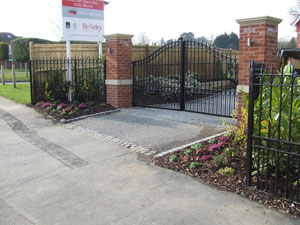 Our website displays some of the services we offer; here is a basic list :
Fabricated Railings
Fences
Gates
Steel Shutters
Roller Shutters
Steel Security Products
Design and Installation
Maintenance
Repairs
We are proud to offer our customers a complete service – starting from your ideas and needs,  by working with you, we can help to create the perfect item  making your ideas a reality.
Keeping Your Property Safe and Secure
If you need to keep unwanted visitors out, want to keep your guests or staff safe, or even wish to enclose vehicles, freight, or products we can help.
Take a look around our site for more details, or simply call or email our friendly team. We will deal with every enquiry promptly, and are happy to find suitable products that work for you. We will not only source products for you, we will also create and manufacture bespoke steel products.
Contact us at:  info@steelsecure.co.uk or call  on: 01449 767058 / 07947 317047