Fences and Gates
With a high percentage of our business coming from repeat customers and referrals, it is clear to see that our business has built its success on the trust of others along with our promise to be reliable.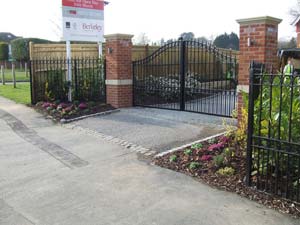 If you are looking for fences and gates, be it for your home or your commercial property, then we can help.
We supply only the best in steel, coated or painted fences and gates that get your property noticed. We can supply standard fencing that helps keep your business property secure, and we can design, create and install beautifully crafted fences and gates that simply enhance your home or property whilst keeping unwanted visitors out.
Our hard working team have worked exhaustively in the past to bring our client's just what they were looking for when they approached us – impressive looking fences and gates that are long lasting, durable, and that look fantastic.
No matter what type of property you own, our designers will help you to plan. They will advise on the best possible types of bespoke fences and gates we can create, and the team will talk to you about the quality of materials and techniques that we insist on.
With impressive guarantees, a superior design service, accurate fabrication and professional installation, we know that our clients come back to us, or recommend us, for good reason.
We invite you to find out more by calling us on 07947 317047 or if you prefer, please email for a rapid reply steelsecure@live.co.uk.