About Us
Steel Secure are manufacturers and installers of gates, railings, grilles and roller shutters, covering all of Essex and  the South East of the country. Our products are  high quality, and with the extra care and attention taken at every stage, when  finished they are  second to none.
Our company ethos and mission is based on the belief that our customers' needs are of the utmost importance. Our entire team is committed to meeting those needs. As a result, a high percentage of our business is from repeat customers and referrals.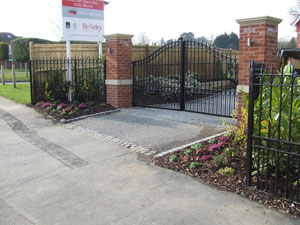 Your Protection Is Our Pride
We have built up a portfolio of customers over the years who continuously return to us or recommend our service's to others. This is because our hard working team, really listen to the customer, ensuring they really do receive the product they require to meet their needs with the high quality they expect.

Because our exclusive service rivals our competitors, it means that our customers can benefit from superior assistance when compared to other similar fabrication companies serving the same areas as us. We are experts when it comes to protecting your property, your possessions, and your assets; whilst adding decorative railings, fencing and gates means you have the option to enhance the kerb appeal of your home or property. With a wide range of steel security options, such as gates, fences, railings and shutters, we can help you to transform the aesthetics of your property, be it commercial or domestic.

Our team have worked on many designs in the past. We provide you with the opportunity to use your own ideas, take advantage of our design team, or even provide us with your architect's designs. We are confident that we will produce the highest quality steel products and have already helped hundreds of customers to create the most pleasing styles that have suited their property perfectly.

The pride we have in our work means that you will benefit from an exclusive service. We give you the option to turn your plans into reality with bespoke products teamed with impressive workmanship. We have proven, over the years that we can offer the best bespoke steel products that the UK has to offer.
Whether you are a local authority, school or educational facility, homeowner, garden landscaper, or a commercial property owner, our designers and engineers will work with you and offer advice to ensure that the appropriate items, are made available to you or, through our repair and servicing, existing ones are kept in prime working order.
Simply put, we work with you to create the most perfect steel products to suit your home or property.
We would welcome the opportunity to earn your trust and deliver you the best service in the industry. Call us today on: 01449 767058 / 07947 317047 or email for a prompt reply at:  info@steelsecure.co.uk