Products
At Steel Secure Ltd, the team have worked hard over the years to build up a catalogue of security and home improvement options.
If you are looking for both secure and aesthetically pleasing steel work, such as our product list below, then we are best placed to help you. We work from our base in Rainham, Essex, and cover the South and the South East. We will happily visit you to discuss your requirements, and we will work from your own plans, designs from an architect, or will help you to design your own style of steel product with our impressive bespoke options. Alternatively, we will show you the products available to choose from – we have a huge range of options ready to install at your home or property.
Steel – Secure and Adding Kerb Appeal
We have the following products available: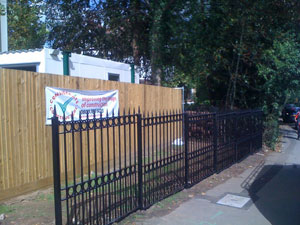 Steel Railings
Fences
Gates
Fabricated Railings
Fences
Gates
Steel Shutters
Roller Shutters
Cellar Hatches and Trap Doors
Steel Security Products
Design
Measure
Manufacture
Install
If you are seeking some of the best quality steel security products, then we can help. Our team is very experienced in the planning, design and make-up of steel products that are useful for many different applications. Whether you have a need to enhance the appearance and the security of your home, or if you have a business with a need to maintain or repair gates, fences and shutters then we can help.
We have many years of experience in our industry. Our team will help you choose the products that are best suited to your project; if you need fences, decorative gates, cellar hatches and more then we will be happy to talk through your plans.
With a huge choice of products or the option to have bespoke products made up from your own ideas or from your architect's plans, then we can help. In addition to this, we have a team of designers who will talk through the options with you and help to design the product that best suits your property and your tastes. We have a number of options, styles and optional security and decorative accessories to help keep you, your family, your business or your possessions safe whilst adding kerb appeal.
Challenge us to design for you something amazing, and we will repay your trust with reliable plans, impressive manufacturing and professional installation.
Whether you are a home owner, a Landlord, manage a commercial property, or are a local authority or school, we can help you with the most fitting solutions.
Our team will talk to you about products currently available, and will discuss your plans should you wish us to manufacture something unique.
Aesthetically pleasing to the eye, and brilliantly secure, our steel security fabrications are very impressive.
We invite you to contact us by email for a fast response at: info@steelsecure.co.uk call direct for a friendly chat about your needs on: 01449 767058 / 07947 317047.