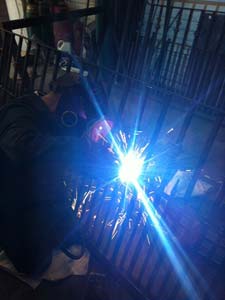 Maintenance of Shutters, Gates & Railings
Here at Steel Secure, our team work very hard to bring to our clients the most superior quality products. We realise that sometimes, vandalism or wear and tear, or lack of maintenance of shutters, gates and railings can result in issues where those items no longer work as they should.
We guarantee our work and our products, yet we are more than happy to help you maintain your existing shutters, gates and railings even if they were installed by another company.
Restoring steel products such as gates and fencing, as well as shutters and railings, is something we excel at; this is because our team have years of experience in our field.
Using sympathetic techniques, our maintenance team ensure that any work carried out to a section of steel fencing, gates and shutters results in a look that fits in perfectly with the existing pieces.
On the other hand, if we need to restore an entire length of railing or need to remove all gates or all shutters, then we'll work quickly using techniques that we have proven work, are long lasting, and that restore your products to a beautiful finish once again.
Contact us for information about maintenance on 07947 317047 or if you prefer, please email for a prompt reply info@steelsecure.co.uk