Railing Design
The team here at Steel Secure Ltd, work hard and have done so continuously over the years. We have managed to build a portfolio of existing railing design projects that our clients have enjoyed.
Whether you are looking to enhance the look of your home, replace wooden outdoor fencing with steel decorative railings, are looking for impressive railings for your stairs and hallways, or if you are simply seeking security and reassurance that your property is safe, then we are perfectly located to assist.
We work in our purpose built manufacturing facility in Rainham, Essex, where we plan, design, create and install some of the highest quality railings available in the South and South East.
Our design team will gladly visit you at home to measure up and discuss your requirements. We can work from your own plans from an architect, or will help you to design your own railings. We will show you the possibilities and create bespoke railings that you can be proud of.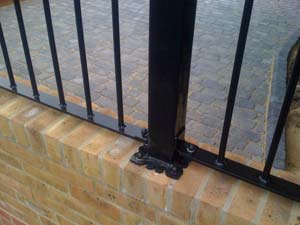 Railing Design at its Very Best
We are proud to provide the following:
Stair Railings – Indoors & Out
Railing & Fences
Bespoke Gates
Fabricated Railings
Design
Measure
Manufacture
Install
We have some of the best quality railing design products for you to select. We will offer you the best possible planning and design service, and will make up the railing to suit. Whatever the application, our team will work with you to create railing that simply stands out from others serving a similar area of expertise.
Our team collectively have many years of experience in the steel and fabrication industry. We will help you to choose the most ideal railings to suit your home, property or building. Whether you need railing to protect your home from the outside, or give it decorative appeal inside, or would like to secure a commercial building, then our team will talk through the goal you wish to achieve.
We have a huge choice of railing design products for whatever reason you may need railing for, or indeed the option to have your products tailored to your own needs, then we are happy to help. In addition, if you would like us to help you with a specific type of railing design then our designers will help you with the options of railing styles that are available to keep your home secure and enhance its overall look.
Contact us for information about maintenance on 07947 317047 or if you prefer, please email for a prompt reply info@steelsecure.co.uk