Installations
We are Steel Secure and we are specialists in our field. We manufacture some of the best quality steel gate, fence, railing and other products from our facility in Essex, whilst serving the whole of the South and South East.
Not only do we pride ourselves in the manufacture of products, we can design and install to a highly professional level. All of the products that we create are made to precise measurements, paying attention to every detail and ensuring that they work beautifully. That is to say that mechanisms work faultlessly, and the materials we use to finish off products offer a very long lasting way to enjoy them.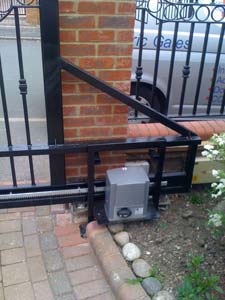 We carry out installations on the following products that we also manufacture from architectural drawings or ask our design team to visit you to measure accurately and talk to you about the style you wish to achieve:
Fabricated Railings – Indoors & Outdoors
Fences & Gates
Steel Shutters
Roller Shutters
Steel Security Products
Trap Doors
Design and Installation
Maintenance
Repairs
Our manufacture and installation services have meant that our clients have benefited for years. The bespoke options that we offer, the variety of products and finishes, and the professional installation service have seen our clients recommend us to others and return to us for more.
We will always conduct installations when it is convenient to do so. In addition, when we do visit you, we will carry out as little interruption to your daily routine as is possible. Our team will also ensure that any mess is cleared away, and that the finish meets the perfection that our customers have come to expect.
If you would like to speak to us about any of our services, including installations, then please either call us directly or email for a prompt response on 07947 317047 / info@steelsecure.co.uk.